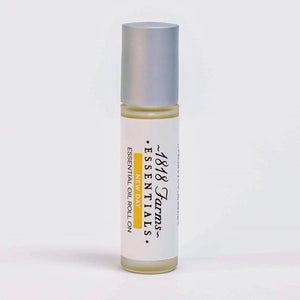 1818 Farms New Day Essential Oil
This 1818 Farms Essential Oil Roll On brings classic and new essential oil blends to you in a convenient and easy-to-use formula.  The frosted glass bottle is a perfect size to take with you and to have on hand at home or by your bedside.  Wake UP, New Day and Relax are the three blends available. 
New Day
1818 Farms New Day Essential Oil Roll On adds inspiration and balance any time. This rich, earthy and uplifting blend brings brightness to each day.
Ingredients: Liquid (fractionated) Coconut Oil, Orange 10x, Ylang Ylang, Clary Sage and Patchouli Essential Oils.
Directions: For adults, apply generously to the wrists, neck, temples, behind the ears, bottoms of feet or wherever you choose. This product is for external use only and may not be used in a diffuser. Avoid contact with eye area.
Our products are handmade and packaged in Alabama. 
Size: .35 fl oz
---
We Also Recommend