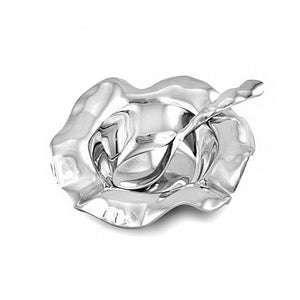 Beatriz Ball Giftable VENTO Petit Bowl w/Spoon
The Beatriz Ball GIFTABLES Vento decorative metal bowl with silver serving spoon makes a wonderful engagement gift, and is perfect for serving.
From our Giftables Program! 
Handmade and artfully designed Beatriz Ball items at irresistible prices. 
Each packaged in a lovely gift box--ribbon included! 
You'll love our exquisitely detailed GIFTABLES Petit Bowls with matching spoons.
Perfect for serving sauces, chutney, jellies, and garnishes. 
Made of an FDA safe, easy-care, oven and freezer friendly aluminum alloy.
Size: 6 x 6 x 2
Weight: 0.639 lb
This piece is hand-wash only. Please do not put in the dishwasher.
---
We Also Recommend