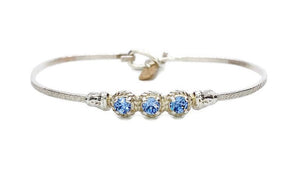 Earth Grace Blue My Girl Bracelet
Sterling Silver or 14K Gold Filled band. Sterling Silver setting, Swarovski Crystal sets. Made with environmentally friendly recycled precious metals.
The My Girl Bracelet is all about the eyes! We designed it in three eye colors, blue, green, and brown plus clear! This is a very petite and sweet little bracelet. Handmade at Earth Grace studio. Made in USA.