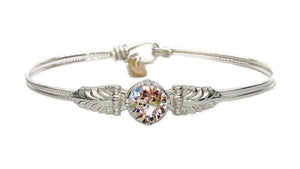 Earth Grace Clear Timeless Bracelet
Sterling Silver or 14K Gold Filled Band, Sterling Silver Setting, Swarovski Crystal.
It's named Timeless for a reason! This beautiful Art Nouveau style bracelet is inspired by timeless designs of the early twentieth century! Designed and created in our studio. Features a beautiful Swarovski Crystal in your choice of six colors. Made with environmentally friendly recycled precious metals. Made in USA.