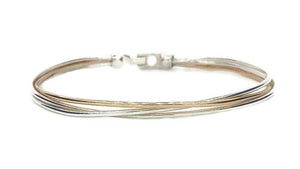 Earth Grace Kudzu Bracelet
Sterling Silver, 14K Gold Filled. Made with environmentally friendly recycled precious metals.
The Kudzu Bracelet is inspired by a crazy vine we have in the south called Kudzu which winds and weaves itself into amazing shapes! The lines of our design mimic this with two stands of Sterling Silver and one strand of 14K Gold Filled woven to form it's flowing lines. Simple yet elegant. Made in USA.