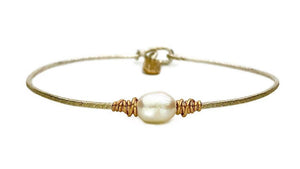 Earth Grace Serenity Pearl Bracelet
Sterling Silver or 14K Gold Filled band, 14K Gold Filled Wire wrap, Freshwater Pearl. Made with environmentally friendly recycled precious metals.
When we designed the Serenity Bracelet, we were inspired by a simple thought, peace! When you wear our Serenity Pearl bracelet, we would encourage you to remember that sometimes simple is beautiful! Handmade in our studio. Made in USA.