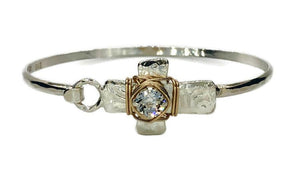 Earth Grace Southern Cross Bracelet
Sterling Silver, 14K Gold Filled wire wrap, Swarovski Crystal. Made with environmentally friendly recycled precious metals.
The Southern Cross Bracelet is one of our early designs. It features an organically shaped cross with a beautiful textured pattern, in the center of the cross is a mounted Swarovski Crystal wrapped with 14K Gold Filled wire. Made in USA.