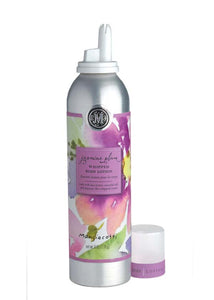 Mangiacotti Whipped Body Lotion - Jasmine Plum
Indulge yourself with the uplifting fragrance of jasmine and juicy plums.This luxurious whipped body lotion enriched with shea butter and essential oils dispenses just like whipped cream. It will leave your skin silky smooth and beautifully scented.Paraben-free. 6 oz.
Fragrance Notes: A modern, abstract floral fragrance with a delicate balance of jasmine, violets, juicy plum, subtle sandalwood and musk.