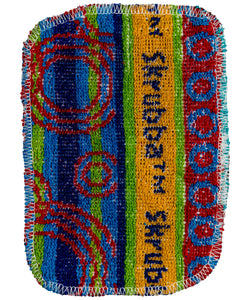 Wet It! Skrubba - Vogue
Skrubba is an eco-friendly, scratch-free scouring cloth that will make your cleaning enjoyable and fun.

Safe to use on non-stick pans, cooktops, bathroom surfaces, car washing (bugs and tar scrub off without damage), even great for vegetable scrubbing! 

Made from a specially developed fabric consisting of 94% cotton and 2% polyester coated with a non-toxic plastic-like coating. 

Colors are randomly selected with a variation of patterns that include designs of stripes, dots, diamonds or other shapes in 3 different blues, green, red and orange.

Hot Seller!
Dimensions 6.375" x 4.75"
---
We Also Recommend