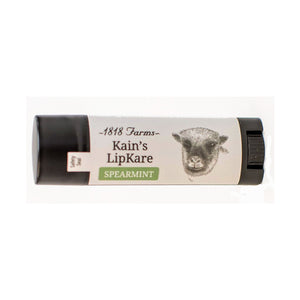 1818 Farms Kain LipKare
If you are looking for a lip balm that works, Kain's LipKare is the perfect product for you!  When developing this recipe 1818 Farms created a lip balm that softens, lasts, moisturizes and is not waxy.  They achieved this by blending Shea Butter, Coconut Oil and Grape Seed oil.  The added spearmint essential oil gives it just a tiny bit of flavor.  Kain's LipKare is made with all natural ingredients.
You will love the black oval/flat tube that Kain's LipKare is packaged in.  The tube fits easily into your front pocket with out being bulky.  1818 Farms products are hand poured and hand made in Alabama.  Each of their products features on o their beloved farm animals as its "Cover Guy or "Cover Girl."
Kain is the "Cover Guy" for this product.  He is a black Southdown Babydoll Sheep Ram and herd sire for the flock at 1818 Farms.  He is known for his luxurious dark fleece.  Sheep don't get much more handsome then this guy!
Weight .2oz
Ingredients: Beeswax, Coconut Oil, Grape Seed Oil, Shea Butter, Vitamin E Oil, Spearmint Essential Oil and Rosemary Essential Oil.
---
We Also Recommend