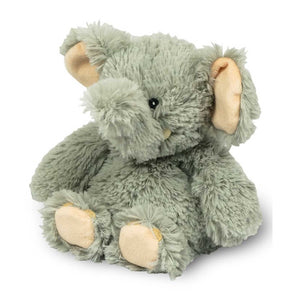 Warmies® Junior - Elephant
Warmies® Juniors are smaller than the full size Warmies® but are just as cuddly and cute! These heatable characters are gently scented with French lavender to provide comfort and relaxation. Warmies® Juniors can also be chilled and make great little ice packs to comfort your little one's booboos. Warm or Cold – Warmies® Jr's are loved by, and safe for, all ages.
Quick Facts:
Simply Warm in a Microwave
Soothes, Warms and Comforts
Scented with Real French Lavender
Chill in a Freezer for Cooling Relief
Safe for all Ages
Dimensions: 9"x5"x2"
Weight: 0.5lbs
Surface wash only with a lightly damp cloth – DO NOT immerse in water, as this will harm filling material.
---
We Also Recommend