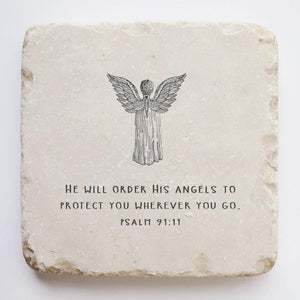 Twelve Stone Art Psalm 91:11 Scripture Stone (2 x 2 x 1")
Sharing God's Word one stone at a time | Quarried from the mountains east of Ephesus and handcrafted in the U.S.A.
If you make the Lord your refuge,
    if you make the Most High your shelter,
no evil will conquer you;
    no plague will come near your home.
For He will order His angels
    to protect you wherever you go.
Psalm 91:11
Pen and ink illustration by Gina Davidson
This Scripture Stone is hand-printed and distressed by artisans here in the United States.